AttendHRM: Time Attendance Software
AttendHRM time attendance software is the most perfect alternative for tracking attendance of employees. No more paper pushing, attendance register punching etc. By integrating with devices it helps you completely automate the attendance process in your company.
AttendHRM offers you the best attendance software package that fully automates your attendance process. Just configure your attendance rules, connect to remote devices, and leave the rest to AttendHRM. Close integration among payroll, attendance, and leave management allows you to define your payroll formulae with ease.
AttendHRM is the best solution for managing attendance efficiently. It will be a one-time investment for lifelong usage.
How much time your employees, your managers and your payroll staff spend on simply managing time? The costs associated with this one task can stagger. Between punching clocks, setting schedules, enforcing schedules, absence management, payroll processing etc, inefficient time attendance management will turn out to be a black hole that sucks a company's bottom line of earnings.
Attendance Management
Leave Management
Overtime Management
Shift Management
Employee Scheduling
Document Management
Management Reporting
Customizable Reports
Help Videos
Incredible Features: The Proof Is In The Pudding
AttendHRM is loaded with useful features, each one done to minimize and simplify the HR processes including attendance, leave management, overtime management etc. We listen to our users and integrate their feature requests on a regular basis.
AttendHRM Attendance Software has a complete attendance management solution that automates all your attendance processes. Just configure your attendance, payroll rules, and leave the rest to AttendHRM.
Leave Management Software is administered by the Human Resource Department (HRD) to maintain the employee's leaves. It is the responsibility of HRD to see to it that the leave programs are efficiently managed and accurately tracked.
Build your own reports! Pick tables and fields, define report criteria and layout and create your own reports. Schedule reports to be emailed at recurring intervals specified according to your requirement.
The fast and easy way to make employee documents. Create Experience certificates, Contract document and so on for multiple employees in minutes. The Document Builder truly saves the time you spend on creating documents for your employees.
Those Are Just A Few Main Features, There Are Plenty More
Employee State Insurance(India)

Late-In, Early-Out Reports

Actual & Planned Work time Reports

Daily/Monthly/Yearly Attendance Reports

Monitoring absence, leaves, overtime, late comers, early goers etc

Modification History for attendance data (Who changed what and when?)
Manage critical employee information easily

Easy work force scheduling

Monitoring the attendance efficiently

Settings for Customization

Monitoring employee's performance

Integrate with payroll for easy and faster payroll processing

Integrate with biometric/swipe card devices to generate attendance information automatically
Attendance Software Versions : Lite, Professional & Enterprise
AttendHRM Attendance Software has three versions; Lite, Professional & Enterprise.
Time Attendance Professional version is for companies having employees number less than 100. Time Attendance Professional is specifically designed for companies. It includes all essential features that are needed for the perfect generation of Salary slips.
More Details>>
Time Attendance Enterprise is for companies with more than 100 employees. This version is capable of handling unlimited number of employees. Companies with this version can also opt for employee self service. Employees can login using their personal accounts to view their attendance, request for correction if any, apply leave, personal data, document handling etc.
More Details>>
Time Attendance Lite is attendance software which is totally free of cost for all. It can be integrated with various devices; hence companies can very easily track the attendance of employees. If you're in good condition
More Details>>
Employee Self Service: Stay

connected

with your employees!
The Employee Self Service allows your employees to stay connected with HR and Managers. Supports Mobile phones, Tablets and Kiosks.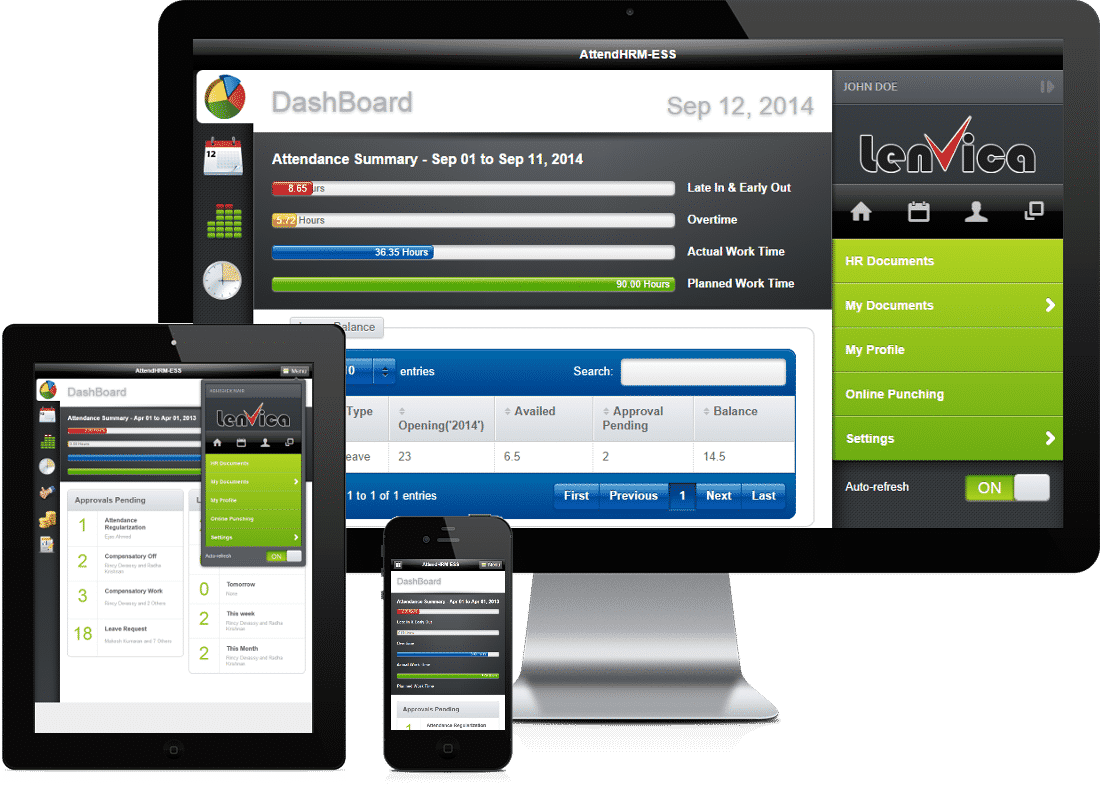 AttendHRM: Support Videos
AttendHRM support videos
A few Devices compatible with the Attendance Software
Download Time Attendance Software!