Shift Management Software
Supports Rotating, Overlapping, Over-night Shifts with Shift Detect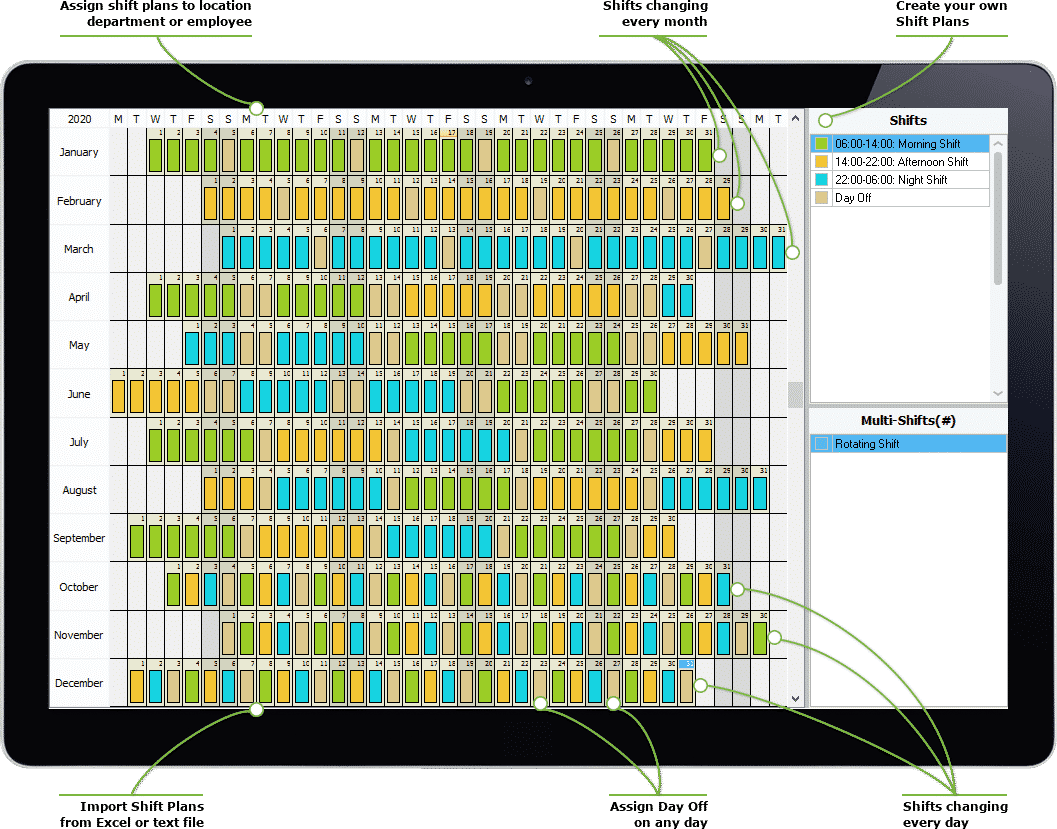 Do you have complicated Shift Plans with rotating, overlapping, and over-night shifts? Do you want the software to recognize the shift the employee is working on? Do you want to know how many employees have turned up for the shift that just started? AttendHRM can help you with all these! Shift Planner allows you to define shift plans for a location, a department or even an employee. Shift Detect recognizes the shifts each employee is working on. HR MIS provides excellent reports to monitor your shifts.
A Shift Management Software is a tool that helps you manage employee work schedules in multiple shifts. The software enables you to allocate required resources in each shift and also ensures that you have enough human resources ready to work in a planned shift.
More features of Shift Management Software below:
1. Shift Overview
Shift Details, Employee HeadCount, HeadCount History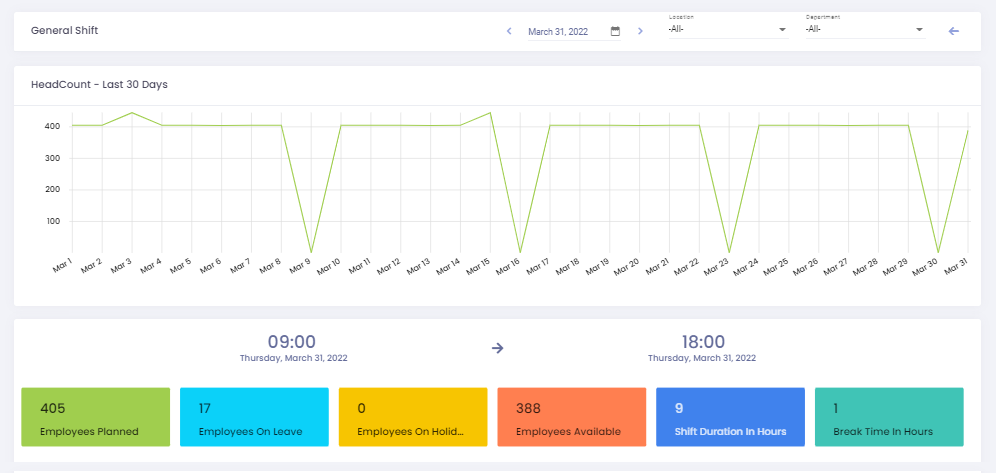 Shift overview shows details on each shift including the headcount history of the shift, count of employees planned to work on the shift, employees on leave, employees on holiday and other basic details on the shift.
2. Shifts, Attendance, Leave and Overtime
Attendance, Leave, Holiday, Shift & Overtime data in ONE interface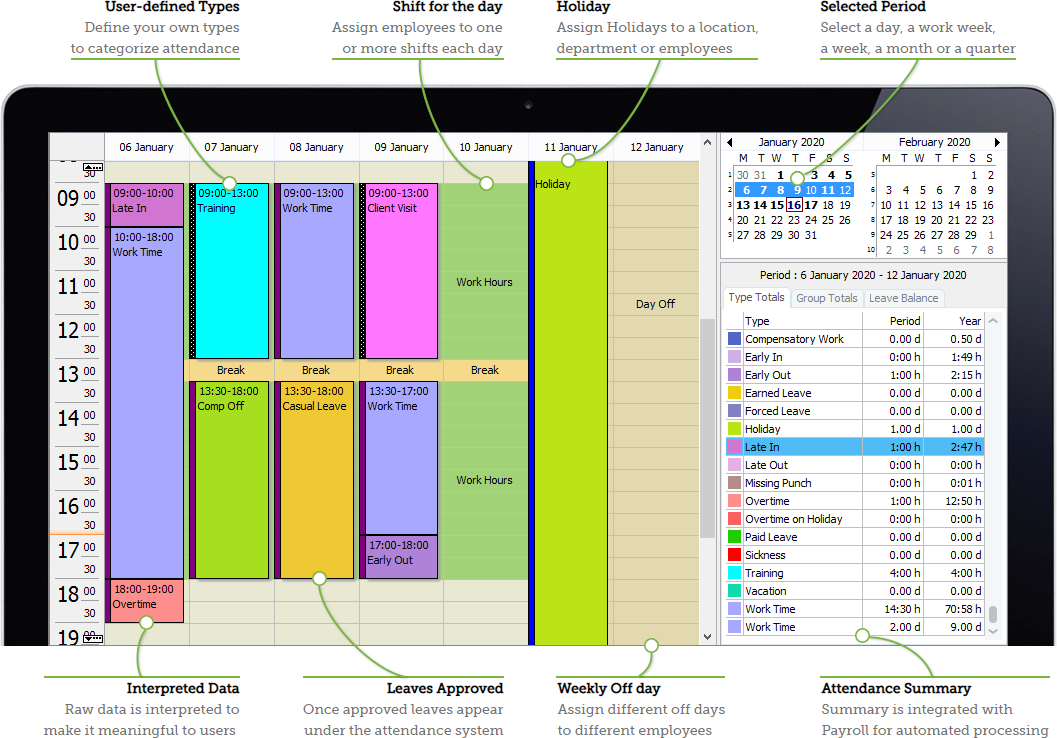 The Attendance Software gives you an excellent interface with data from different modules for each employee. The Leave module brings in Approved Leave and Holiday data. The Roster module brings in the daily work plans. The data coming from Device module is processed with reference to the Company Policy to make it meaningful to users. The Employee Self Service module brings in attendance corrections requested by the employees. The Attendance Summary is directly integrated with Payroll for processing without manual intervention.
3. Shift wise Employee Availability
Planned HeadCount for all Shifts for the day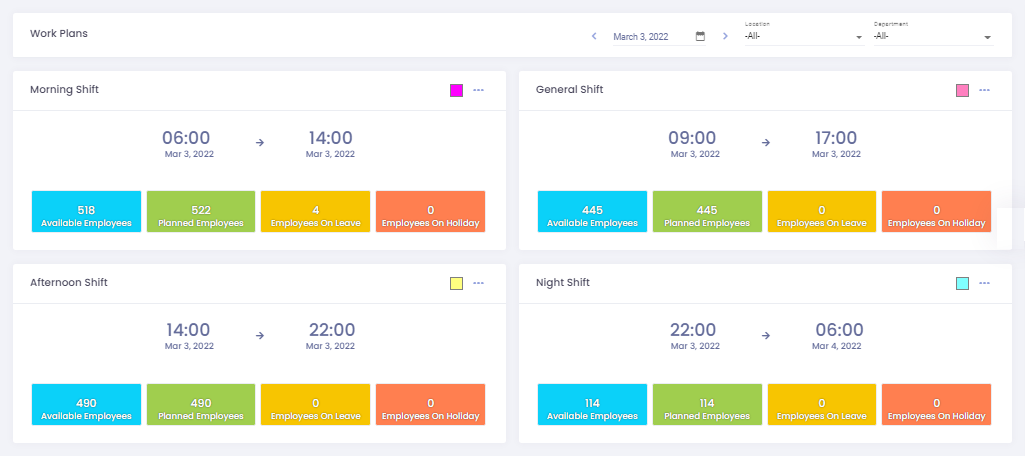 The Shift Management Software shows an overview of the employee availability in all the shifts for the day. This gives top managers an instant overview on the employee availability, employees on leave, employees on holiday, employees on weekly off and much more.
4. Shift Management
Make shift changes from Mobile Phones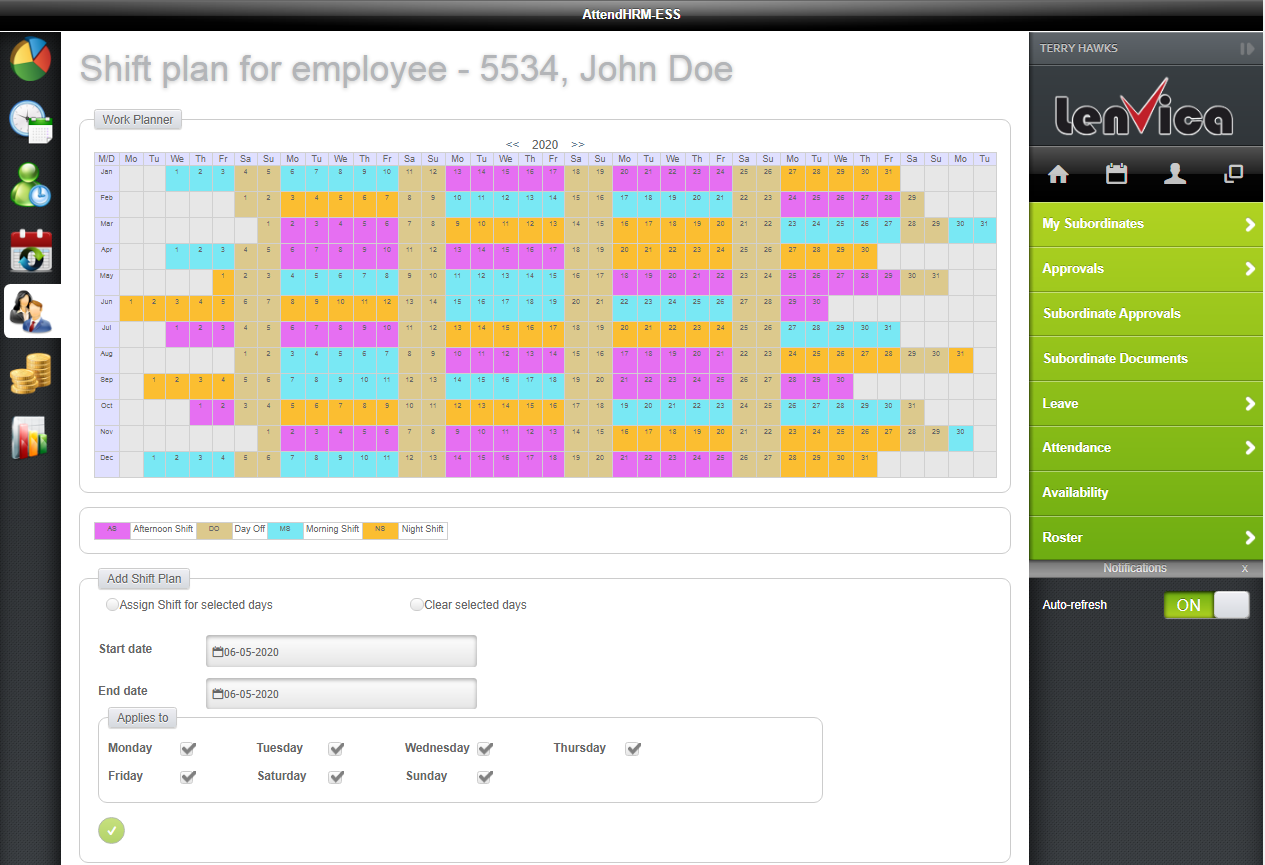 The Employee Self Service allows your managers to assign shifts to employees or make shift changes from their mobile phones; this could be very handy if you have to change employee shifts very often.
5. Shift Analytics
Real-time analytics for Shift Monitoring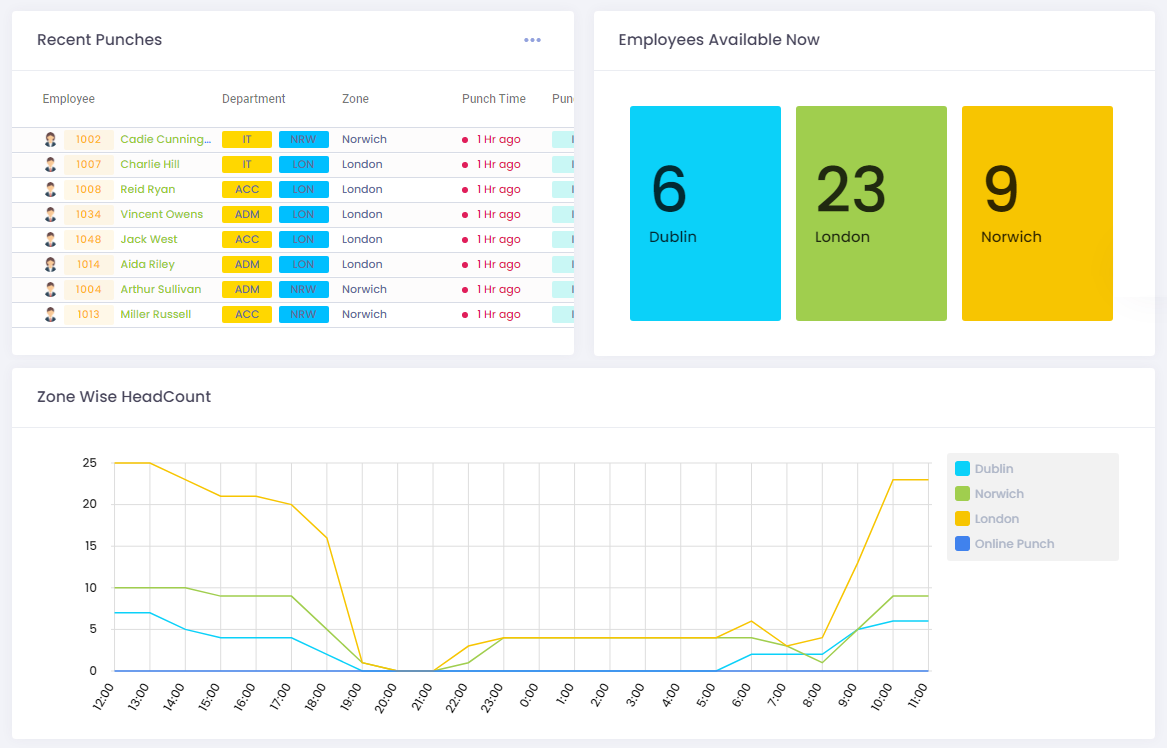 Shift Analytics gives top managers real-time information on employee strength in each shift, employee availability, headcount history and much more.
6. Shift HeadCount
Shift wise, Designation wise, Location wise Employee HeadCount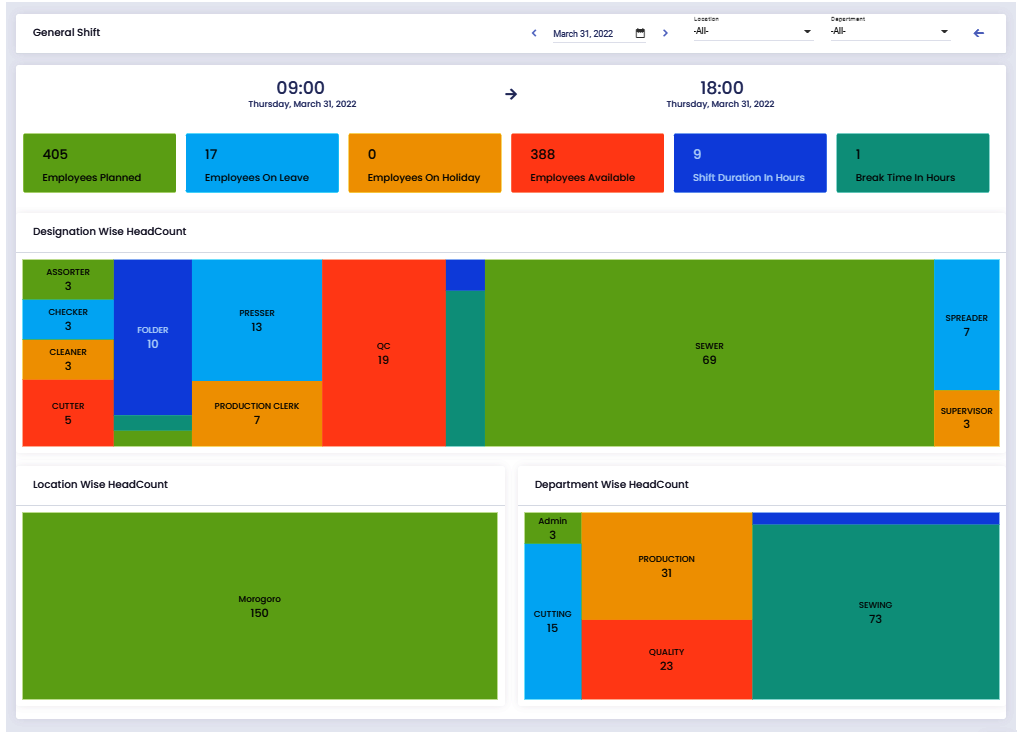 Shift HeadCount Report shows planned headcount of employees in each designation, department and location with in each shift. This report helps top managers to take necessary action if there are not enough employees in a shift with the required skills.
7. Shift Editor
Create your own Shifts

Create Shift Plans on your own according to company requirements; create day shifts, create over-night shifts, and include breaks.
8. Shift Planner
Assign Shifts to Employees, Departments or Locations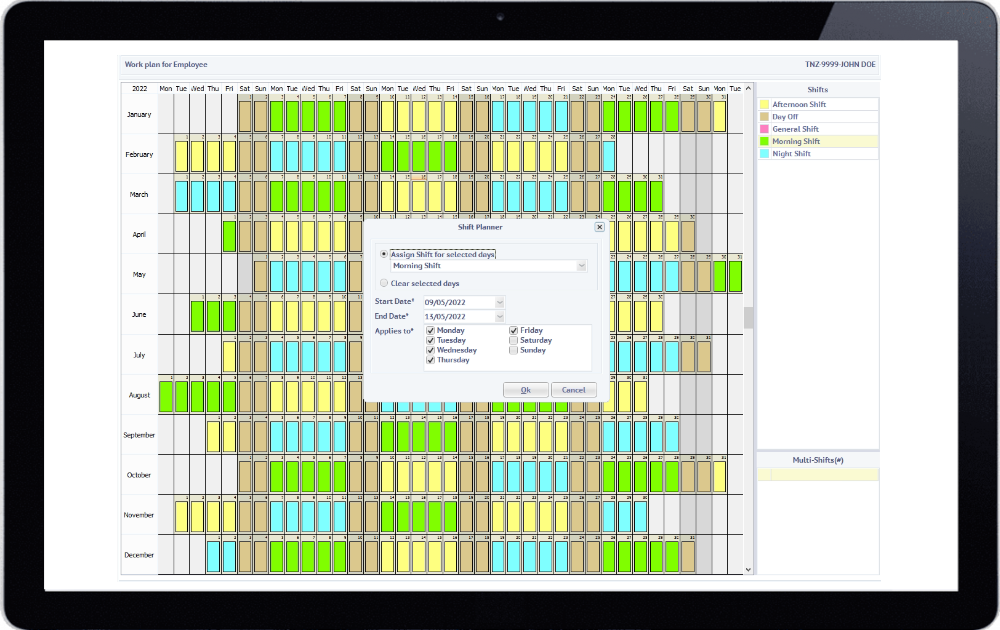 Shift Planner allows you to assign shifts to an employee, or a group of employees on a graphical interface. Shift Planner also allows you to define weekly off for each employee.
9. Automated Shift Detect
Is it difficult to plan your Shifts upfront? Shift Detect is here to help!

Shift detect analyses employee punch times and detects the shift he has worked on. Shift detect helps calculate late in, early out, overtime and so on based on the punch times.
Frequently Asked Questions
What is Employee Shift Scheduling Software?
Employee Shift Scheduling Software is a tool to manage employees and shifts in an organization that enables managers to assign employees to different shift schedules to ensure that all the shifts have adequate human resources.
Is there an app for scheduling employees?
Shift Management app enables managers to schedule employees to multiple shifts. Managers can also swap employees between shifts and view shift calendar for a month. For each day, managers can view the list of shifts for the day, and the list of employees available in each shift.
How do you manage a shift schedule?
When managing shift schedule for a group of employees, you should ensure that all the shifts have adequate resources and each employee should get enough rest. Factories usually work non-stop, so you should ensure that resources are available 24/7. In such a scenario, usually there are three shifts with employees working 8 hours on each shift and employees have different weekly off days. Also, shift times can be rotated once in a week or so to avoid some employees always working on night shift.
How do you run a successful shift?
To run a successful shift, ensure that you have allocated enough resources well in advance. Also, ensure the shift has enough resources after the shift has begun. Ensure employees are reporting on time to relieve employees from the previous shift. Foresee employee leaves and absences and keep backups.
Can I manage employee shift schedules in Excel?
Managing employee shift schedules in excel gets complicated with the increase in your employee strength. When you have just a few employees, excel could be an easy tool to manage your employee shift schedules. But, as you grow, it would be very difficult and error prone to manage your shifts with excel.