AttendHRM Enterprise LAN Client Installation and Setup
AttendHRM Enterprise LAN Client Installation
Download the AttendHRM base version setup file.

Run the setup file to install AttendHRM.

In the setup installation wizard, you must choose the application type as 'Client' for installing the Enterprise LAN client. Refer the screenshot.

Proceed next until the installation is complete. AttendHRM will be installed and an icon to access will be placed on the desktop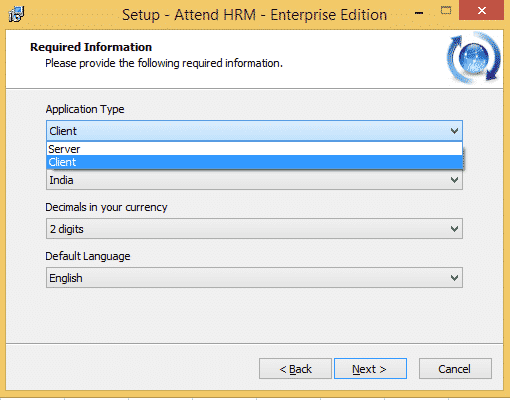 AttendHRM Enterprise LAN Client Setup: Connection to Database
Right click the AttendHRM icon in the desktop. Click to open the file location.

Open 'Connection Manager' in the '….\Attend HRM\Bin' folder.

Specify the path where database is located. Syntax is Ip address of the system in which DB is placed, followed by a colon (:) and then the exact path.

Click 'Test Connection' to ensure the connection is success.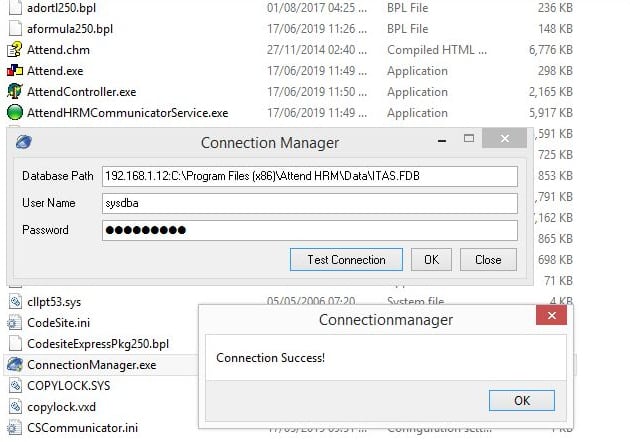 Firewall Settings to allow Firebird port 3050
Firebird server listens on port 3050 for connection requests from clients.
Firebird uses port 3050 unless setup differently and the AttendHRM Enterprise clients use this port to communicate with the master database. Windows firewall settings must be so configured in the server system that it must not block the connections from client systems through the port 3050. Inbound rules for port 3050 can be defined under the Windows firewall advanced settings. It will authenticate the connections through the firebird port 3050.
The steps above should get you started with AttendHRM. Now, choose the topics below to proceed further!
Do you want to upgrade?
AttendHRM Enterprise upgrades you to many more exciting features. A few are listed below.