AttendHRM: Integrated Enterprise
A complete HR Software package. The software comprises of Time Attendance and Payroll. AttendHRM is feature rich and customizable to user requirements. It fully automates both attendance and payroll processes in the company.
Why prefer AttendHRM: Integrated Version?
Attendance software gives you the ability to track your employees' time and attendance automatically. You can customize this module to work with your company's attendance rules. Attendance software communicates with 'Time Registration' module to extract data from time attendance devices, and the punching data is used to calculate work time, overtime, late in, early out times. The payroll software is seamlessly integrated with the attendance software, which enables you to process payroll with attendance information.
One click Salary Processing
User defined Salary Heads
User defined Salary Structure
User defined Formulae
Document Management
Employee Scheduling
Import of Salary Details.
Bonus (India)
Incredible Features: The Proof Is In The Pudding
AttendHRM is loaded with useful features, each one done to minimize and simplify the HR processes including attendance, leave management, overtime management etc. We listen to our users and integrate their feature requests on a regular basis.
World class time attendance software designed for real-time, editable and customizable attendance management. Seamlessly integrated with payroll software. Supports multiple Time Attendance & Access Control Devices.
Workflow system closely integrated with time attendance and payroll software. Facilitates online leave application, and approval with notifications. Supports monthly and yearly leave balances.
Build your own reports! Pick tables and fields, define report criteria and layout and create your own reports. Schedule reports to be emailed at recurring intervals specified according to your requirement.
The fast and easy way to make employee documents. Create Experience certificates, Contract document and so on for multiple employees in minutes. The Document Builder truly saves the time you spend on creating documents for your employees.
Shift Management Software designed to handle complex, overlapping, rotating, and over-night shift schedules. Manage unlimited number of employees, avoid scheduling conflicts, and optimize your work schedules.
Those Are Just A Few Main Features, There Are Plenty More
Graphical Attendance Views (Day, Work Week, Week, Month, Year views)

Automated Overtime Calculation

Automated Late-In/Early-Out Calculation

Grace Periods for Work Start/End Time

Attendance Data Re-processing

User defined Attendance Types

Real-time and Editable Attendance

Integrate with biometric/swipe card devices to generate attendance information automatically
Late-In, Early-Out Reports

Actual & Planned Work time Reports

Daily/Monthly/Yearly Attendance Reports

Monitoring absence, leaves, overtime, late comers, early goers etc
Employee State Insurance(India)

Monitoring the attendance efficiently

Settings for Customization

Monitoring employee's performance

Integrate with payroll for easy and faster payroll processing

Manage critical employee information easily
AttendHRM: Support Videos
AttendHRM has an efficient yet simple to work with Graphical User Interface that suits to everyone, making it easier for Human Resource department staffs to maintain attendance of employees. AttendHRM Integrated Software can be integrated to biometric devices and attendance can be tracked automatically in a very efficient way.
Employee Self Service: Stay

connected

with your employees!
The Employee Self Service allows your employees to stay connected with HR and Managers. Supports Mobile phones, Tablets and Kiosks.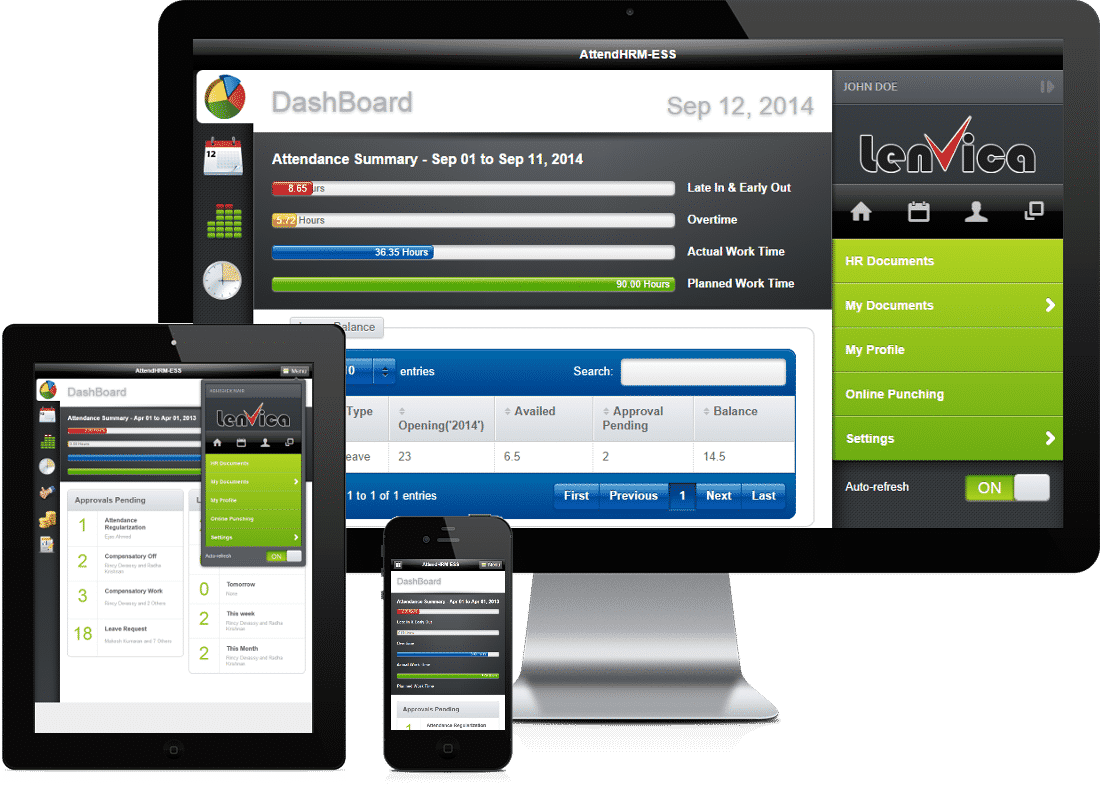 A few Devices compatible with AttendHRM
Download Integrated Enterprise Software Now!